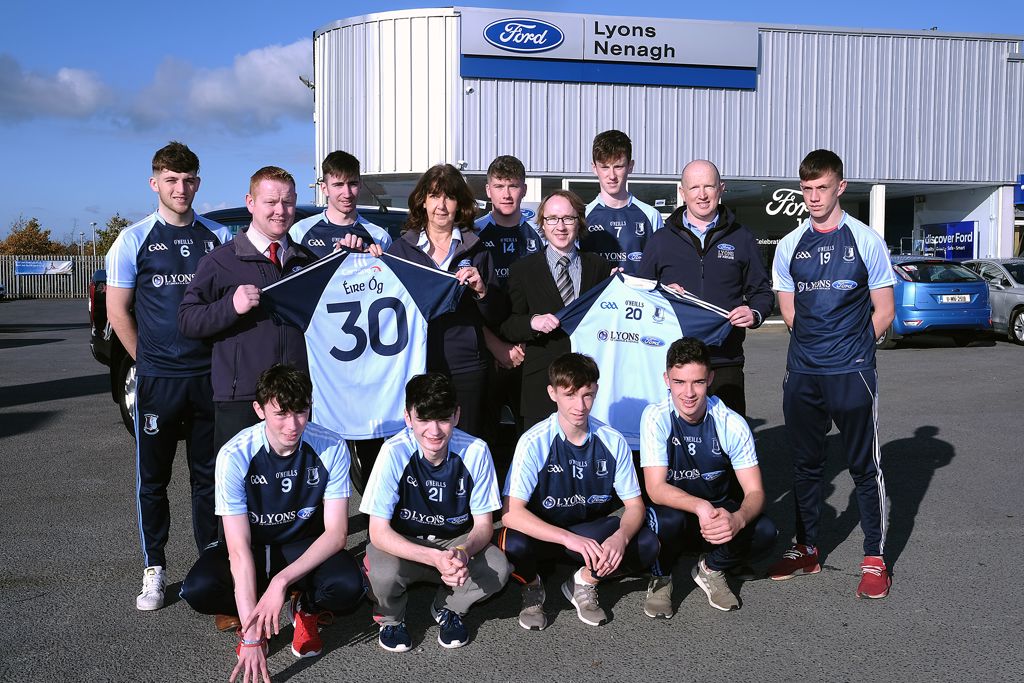 Lyons of Nenagh Dealership wins Carzone sponsorship for Nenagh Éire Óg GAA Club
Lyons of Limerick & Nenagh, a local dealership in Tipperary, has won the Carzone sponsorship for their chosen local GAA sports club, Nenagh Éire Óg GAA Club. The club has grown significantly over the years and is the centre hub of the community.
The club's community currently consists of 700 members, this includes 300 adult members, 220 juvenile/youth members and almost 200 camogie club members. The grounds at MacDonagh Park in Nenagh is also a designated county ground and in addition to Tipperary competitions hosts intercounty and club fixtures regularly in all codes. The facilities also include a handball alley with an active handball club of over 50 members, both juvenile and adult.
Nenagh Éire Óg GAA club fuels fifteen teams which are fielded across age groups from under six to adult teams in hurling, football & camogie, in both North Tipperary divisional and County Tipperary competitions.
2017 was a very successful year for the club's juvenile groups, three divisional titles were won and the hurling senior level team reached the North Tipperary senior hurling final. The under 21's teams have qualified for the knockout stages of their league and will be the first to benefit from the new set of jerseys sponsored by Carzone and Lyons of Nenagh.
Lyons of Limerick & Nenagh is well established in the local area with many employees associated with Nenagh Éire Óg GAA club. The long-standing relationship was the basis for the dealership choosing the local GAA club for the Carzone competition.
Quote from Fiona Connolly, Lyons of Limerick and Nenagh General Manager:
"Lyons of Limerick and Nenagh are delighted to win such a fantastic sponsorship prize from Carzone. Our business may be about cars and vans but we pride ourselves on being involved with the local community. We always had a long association with GAA. We are proud to be in a position to offer Nenagh Éire Óg this sponsorship package in conjunction with Carzone and wish them all the best!"
Quote from Enda Costello, Nenagh Éire Óg Club Chairman:
"Nenagh Éire Óg wishes to thank Carzone and Lyons of Nenagh for this wonderful sponsorship. We have a large membership which continues to grow each year and the demands placed on us financially grow with that. Therefore, this generous sponsorship of playing gear is incredibly welcome and will be worn with pride as we represent Nenagh."
The competition is being run by Carzone, who have been calling on car dealers nationwide to nominate their local sports team of choice. This sponsorship initiative will see several sports clubs receive their very own branded kit courtesy of their local car dealership over the next few months, giving car dealerships the opportunity to support their local community.
News